Welcome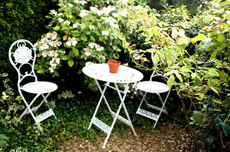 The front garden available for guests.
Your hosts Margarita and Peter Cooper-Marsh wish you a wonderful time in Bath.
Elgin Villa is seconds away from Victoria Park and the Royal Crescent, the iconic representation of the City's Georgian architecture which has much to do with Bath's status as a World Heritage Site.
Built in 1874 the elegant Victorian Villa is in a tranquil residential area and yet ideally situated for your exploration of the town, just down from the celebrated Royal Crescent with the Circus and Assembly Rooms close by, four or five minutes from Queen Square in the City Centre and about ten minutes level walk to Bath Abbey, the Roman Bath, the Pump Room and Bath Thermae Spa.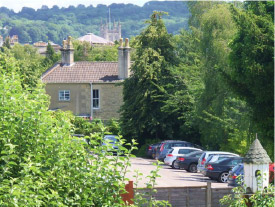 View from a rear bedroom
In the picture here is a dovecote in Elgin Villa's private parking available for guests at £5 a day. Further off is the square tower of Bath Abbey about ten minutes level walk away.
Car access is through Charlotte Street Car Park which can be entered from Marlborough Lane or from Charlotte Street just off Queen Square in the City Centre.
The Villa stands in what was part of Royal Victoria Park. Today the Park starts a few seconds walk to the left in this picture where you will see the famed Royal Crescent ahead of you.

Enjoy a substantial breakfast in our bright dining room. Help yourself from our buffet sideboard which provides cereals, juices, fresh fruit, yoghurts and pastry. Choose tea, coffee or hot chocolate with fresh toast and marmalade, and free range scrambled eggs on toast or porridge.
Cancellation policy: For cancellation of a confirmed reservation we ask 3 days notice. Otherwise the rate of one night's accommodation will be charged unless we can let the room.