The Rooms
All rooms are en suite – own private bathroom with wc, hand basin and shower.  Each room has a hair dryer, to be found in one of the drawers, table and chairs, tea/coffee making facilities and a small flat screen TV.  An iron and ironing board for use in your room are available on request.
Our double beds are five feet (1.52m) wide, known as 'king' size in the UK but 'queen' in Australia and the US.  The single beds are standard two feet six inches (0.76m) wide.
Family Room for Three on the first floor (up one flight of stairs) has a double bed and a single bed. It is a spacious seventeen feet by sixteen feet (5.18m x 4.87m)  including the bathroom.  The room looks onto Elgin Villa's front garden with the guests' sitting out area, and to trees and communal gardens beyond, which are part of Royal Victoria Park.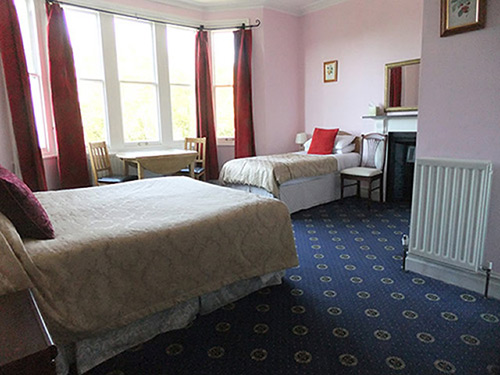 (click here for more pictures)
Family Room for Four on the second floor has a double bed and two single beds. It is a generous sixteen feet by fourteen feet ten inches (4.87m x 4.53m) plus private bathroom and has an ample storage cupboard to put all that luggage out of the way.  It looks onto the trees and gardens beyond Elgin Villa's front terrace.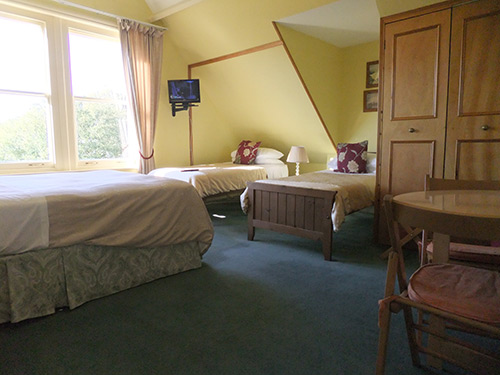 (click here for more pictures)
Double Room First Floor is fourteen feet by twelve feet ten inches (4.26m x 3.91m) including its small bathroom.  It has views of Elgin Villa's back garden, the square tower of Bath Abbey in the middle distance and the hills beyond.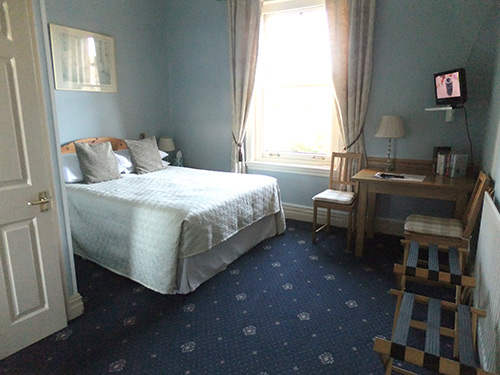 (click here for more pictures)
Double Room Second Floor is thirteen feet six inches by thirteen feet plus its private bathroom. It looks  out  at the back of the house to gardens, the town and Abbey, and green hills beyond. Trees to the left screen  Royal Victoria Park and the Royal Crescent a short walk away.